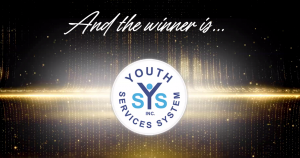 YSS Wins Media Master Award at NRPM Awards Ceremony
Posted: December 15, 2022, 11:56AM
Categories: Events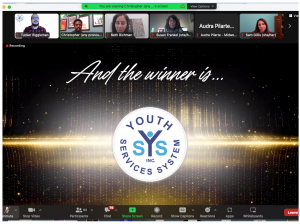 (Riggleman accepts the award on behalf of YSS at the virtual NRPM Awards Ceremony held on 12/14)
We're very excited to announce that YSS won the Media Master Award at this year's National Runaway Prevention Month (NRPM) Awards Ceremony! The award is given to the organization or individual who secures the most impactful media coverage throughout NRPM.
YSS is one of over 300 official partners of NRPM, which is coordinated by the National Runaway Safeline. Various organizations participated from 44 different states across the country. During the acceptance speech, Digital Media & Communications Coordinator Tucker Riggleman thanked NRPM for the recognition, discussed YSS's programs, and emphasized how helping runaway and homeless youth is at the core of what we do here each and every day.
This year, Riggleman and Street Outreach Coordinator Dorothy Matusic previewed NRPM and our 12th Annual Wheeling SleepOut event with a story for local news outlet WTRF. Riggleman also went live on the air for WTRF during the SleepOut, secured print coverage in The Intelligencer, and had the SleepOut press release ran by multiple digital publications such as Lede News and Weelunk. He also did an interview feature for a local iHeart Media podcast highlighting YSS, the SleepOut, and NRPM.
Matusic organized a Green Fashion Show to coincide with National Wear Green Day, an awareness-raising initiative for NRPM. A large number of YSS staff joined in on the fun by dressing up for photos that were shared on social media, while holding their committment cards to share how they help runaway and homeless youth every day. She also gave presentations at local schools by using a basket and text books to demonstrate how heavy stressors can "weigh" on youth, the presentations showed how to "lighten" the load by accessing community and national resources. Dorothy used her lived experience to connect with the students while engaging in healthy conversations about runaway prevention and the importance of the Safe Place network, community collaborations, and YSS's response to issues within the community. She was also able to secure a large donation of women's underwear, bras and hygiene supplies (items that are not donated as often as others) to use in her outreach work.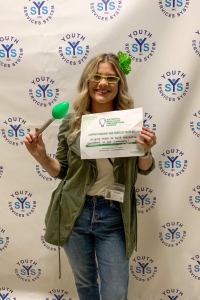 (Street Outreach Coordinator Dorothy Matusic during the Green Fashion Show)
NRPM Media Roundup: