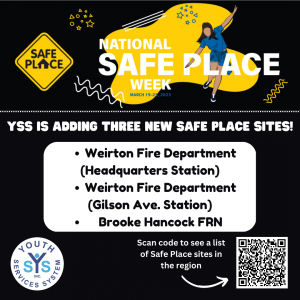 YSS Adds New Safe Place Sites During National Safe Place Week
Posted: March 14, 2023, 11:55AM
Categories: Events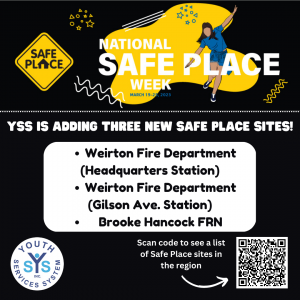 Next week is National Safe Place Week, and we're excited to announce the addition of three new Safe Place sites!

The nationally recognized week serves to raise awareness about the Safe Place program, a national program which brings together youth service agencies, businesses, volunteers, and community partners to help youth in crisis.

YSS is the only licensed Safe Place provider in the state of West Virginia. The addition of three new sites, two at the Weirton Fire Department (both the Headquarters Station and the Gilson Avenue Station) and one at the Brooke Hancock Family Resource Network, will bring the Safe Place sites within the network up to 25 total locations.

"I have been working on becoming a certified Safe Place here at the City of Weirton Fire Department for quite some time," said Lieutenant Mikel Serafine. "We as a department are thrilled to bring this endeavor to fruition. This is yet another service that we would like to offer our youth in the city, and we are willing to do whatever it takes to protect them."

The City of Weirton Fire Department and the Brooke Hancock FRN will be launching their new Safe Place designations on Tuesday, March 21st. YSS Outreach Coordinator Dorothy Matusic will be at both sites that day, beginning with the Fire Department's Headquarters Station at 10 a.m., to officially announce the program and place the bright yellow Safe Place signs. Local press and community members are welcome to stop by and learn more about the program.

"YSS is the only licensed Safe Place agency in the state of West Virginia, and we take pride in being able to provide our local youth with safety and resources," said Matusic. "We are very excited to welcome the Weirton Fire Department and the Brooke Hancock FRN to our Safe Place team as we work together to keep our local young people safe."
"As an Outreach Coordinator, I see firsthand the importance of collaboration among local organizations and community members – we could never do this work alone. It takes a dedicated village to show love and compassion in a time of need, and that's what Safe Place really is: a place where a young person can feel secure. Everyone deserves the right to feel safe and loved in a time of crisis. We are eager to expand our Safe Place sites and reach more young people in the future."
Teens can text the word "SAFE" and their current location to "4HELP" (44357) to receive a message with the closest Safe Place site. They can reply with "2CHAT" to text interactively with a trained counselor. To learn more about Safe Place, visit: https://www.nationalsafeplace.org/
To see a current list of active Safe Place sites in the region, please visit: https://www.youthservicessystem.org/residential-services/yss-safe-place-site-locations/162