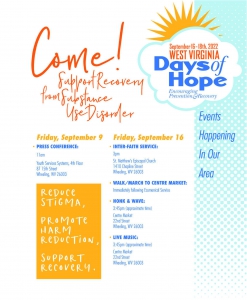 National Recovery Month
Posted: September 1, 2022, 1:16PM
Categories: Recovery
September is National Recovery Month, and YSS has multiple events happening throughout the month to raise awareness and promote Recovery in our community!
Save a Life Day
September 8th is Save a Life Day! This statewide event provides free Naloxone and training to individuals. YSS will have staff assisting at the multiple sites throughout the Northern Panhandle. Check out the link for more info on sites near you!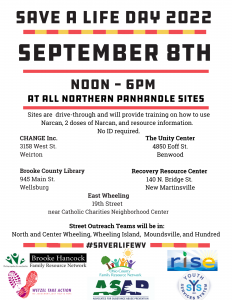 ---
Days of Hope
The annual WV Days of Hope features faith leaders coming together with community members to promote Recovery and reduce stigma. Check out the poster for more info on this year's Days of Hope activities (click to enlarge)!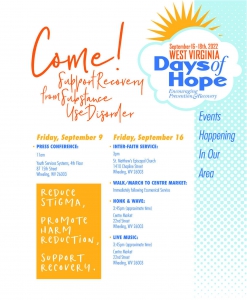 ---
Recovery Coach Academy
Twice a year, YSS and the Wheeling YWCA team up to offer a free Recovery Coach Academy. The week-long training helps provide the skills needed to assist others along the path of Recovery. The next RCA is September 12th - 16th, and it is at capacity. To learn more about the next time the class is offered and how to sign-up, please contact Valery Staskey at vstaskey@ysswv.com or 304-218-2843.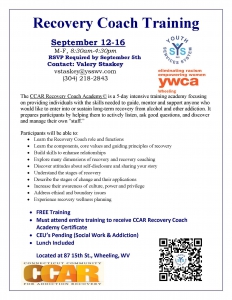 ---
Northern Panhandle Harm Reduction Summit
The Northern Panhandle Harm Reduction & Recovery Alliance is hosting a Harm Reduction Summit on September 21st at the WV Northern B & O Building Auditorium. Registration is $20, and lunch is included. Visit the link below to register for the summit!